Allen Pettigrew Jr. | August 12, 2018 | @travelinghoopers
---
On the outskirts of downtown Indianapolis lies a gym nestled between a children's playground and several rusted basketball goals. The busy road in front of the parking lot leads to a quaint neighborhood that you'd see in a movie described as "the hood". The parking lot leading up to the gym is riddled with pot holes yet its filled with cars of determined parents. As you step closer you can see vines growing along the base of the building and pealing paint. The doors leading to the gym are covered in fliers. One for the church fish fry on Sunday, another for the weekend summer camp, and another for the hours of operation for the gym. A black and white picture sits at the top of the door frame, it reads, "Gardens Magic".
At first glance the dimly lit gym is like any other rec center you'll find in a metropolitan area. There's kids playing in a corner, Dad's teaching their children the fundamentals of basketball, and an agitated gate keeper. As I walk in for the first time she shouts, "Hi! Can I help you?". "No, just looking for a gym while I'm in town," I say as I poke my head around the corner to see the brand new, orange basketball rims. "Honey, its five dollars a day unless you want to play for the membership," she barks. That's when a smiling, stocky man comes around the corner to interject "How are you doing, man? You here to ball?". At this point I'm sweating, feeling the tension from the woman near the gate pressing against my side. "Maybe later, I'm just checking out the gyms in the area." The smiling man says without skipping a beat "Well, you can shoot around if you'd like. Come on in." The woman at the gate shifts her eyes to the smiling man, he'll be in trouble later.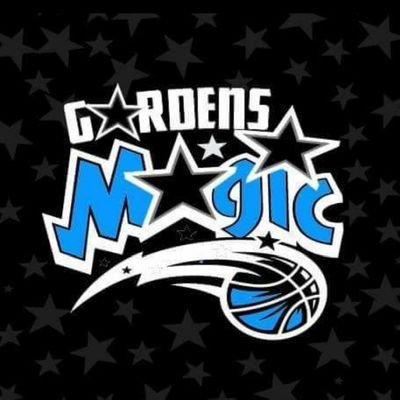 As I walk into the gym I notice the banners hanging on the walls. "Gardens Magic 2006, Gardens Magic 2011, Gardens Magic 2012…, there's history to this gym. After shooting around for about five minutes a kid around 9 years old walks into the gym with enough gear on to double his body weight. Followed closely is the smiling man from earlier now with confidence glinting in his eye. He yells the kids name jokingly, there's muttering and the kid starts to warm up. I watched for two hours as the two have an intense workout with shooting, sprints, and ball handling drills.
I continued to go to that gym that house Garden Magic AAU week after week. Every Monday, Tuesday, and Thursday. I watched a team of 12 – 14 years grow as athletes and young men. There was a level of love for each other that you would only find in well the Hoosiers.
Their friendship showed on the court leading to some of the most unselfish basketball I've seen from a team that didn't run plays and they didn't need. Their basketball IQs were amazing for their ages. The team's wings were able to read actions off picks giving them the ability to flair or curl depending on the defenders' position. Each lead guard had full confidence when threading the needle on the break leading to textbook finishes off the glass.
There's an obvious love for versatility in the state of Indiana especially at the AAU level. The downside to the versatility is noticeable with the young bigs. They are very limited in the post yet have promising mobility with the ball in their hands. During the tournaments the Garden Magic played in there young 6'5 big was unstoppable. He had the ability to grab a rebound over opposing forwards and centers competition and drive the ball up the court for a one-man face break.
No one player had a flashy game, but some had a competitive edge that made them stand out from others. The Gardens Magic had a guard who played with so much confidence that he smiled while bulldogging his way through the lane. Armed with a quick first step there were few people that could guard him at any of the tournaments.
That team embodies what professional hoopers from Indiana are known for. Players like Yogi Ferrell, George Hill, and Courtney Lee aren't the flashiest of players but are competitive and use their basketball IQs to make teams better. The same can be said for elite professional women's basketball players like Skylar Diggins and Alex Bentley. Even bigs from Indiana that made it to the professional ranks fit the same mold. All three Plumlee brothers and Cody Zeller are physical specimens with limited skill but others like Zach Randolph and Caleb Swanigan.
With programs like Gardens Magic and players like the ones listed above there's a future football Indiana Hoopers. Indiana is riddled with Division 1 programs like the storied like Indiana University, Purdue University, Notre Dame, and Butler University. Smaller schools like Indiana State University and IUPUI all have the potential to keep them in-state talent in home like Indiana was able to do last year with top 10 recruit, Romeo Langford. If this trend continues Indiana will be a very interesting state to watch.
P.S. This Indiana basketball article was written all without mentioning Larry Bird.
By: Levi Washington | August 12, 2018 | @4thlegendz
---
Player Profile                                                                    
Trayce Jackson-Davis
Trayce Jackson-Davis is a long and athletic left-handed big man with a developing skill set that makes him harder to guard in the post. He's made consistent strides in both his game and approach in recent years and appears to be calm and collected under pressure and only keeps improving. What I love about this kid is his basketball IQ. Jackson is always in the right spot and always in good position to score very easily. He runs the floor effectively filling the lane. This kid has great upside and can be great player in the league he's a grit and grind type player willing to sacrifice for the betterment of the team.
Weakness
I often saw how passive on the board he is. He could be more dominant if he puts more effort on the boards. If he wants to be relevant he needs to develop a jump shot, it's going to hurt him if he doesn't. He also needs keep developing his face up game.
Comparison: Harry Giles